During the week it's chaotic.
There is zero time (and energy) to come home after a long work day and cook up a nice meal for you and your family, not to mention how annoying it is to wake up earlier than you normally would to make a yummy breakfast (after all breakfast is the most important meal of the day ).
Every meal you eat is important and should contain most of (if not all) the food groups. But, during the week we're always in a rush so we resort to something quick like protein bars (yes great for a pick-me-up snack but not a legit meal!) and the f word… fast food.  Yes fast food is inexpensive and quick to get but, it's even quicker to clog up your arteries!
So what could we do to have access to inexpensive meals that are nutritious and delicious? Meal prep!
Imagine having most of or all of your meals planned out that not only taste good but satisfy your health needs.  All you have to do is have an idea of what healthy meals you want to eat, take those ideas to the grocery store and then go home and cook it up. Sure it may seem like a lot but, its only 1-2 hours of your entire day to have all of your meals ready for the WHOLE week!
Your wallet will love this idea too! Instead of buying a $15 salad, you can buy the ingredients from the store and have multiple salads instead of spending all of your hard-earned money on just one. Buying larger quantities of food from the grocery store and making so much use out of it really gives you your money's worth.
Jana Pollock from Buzzfeed saved $300 from meal prepping for just 2 weeks! $300! Her grocery bill for the entire week was $64.87. Talk about ballin' on a budget!
She also said that when she cooks she puts on episodes of The Office to make the process more fun.  Make it fun by putting on music or do it with your friends like it's a party! Let's be real, if it's a whole lotta food without a whole lotta money involved, then it really is a party!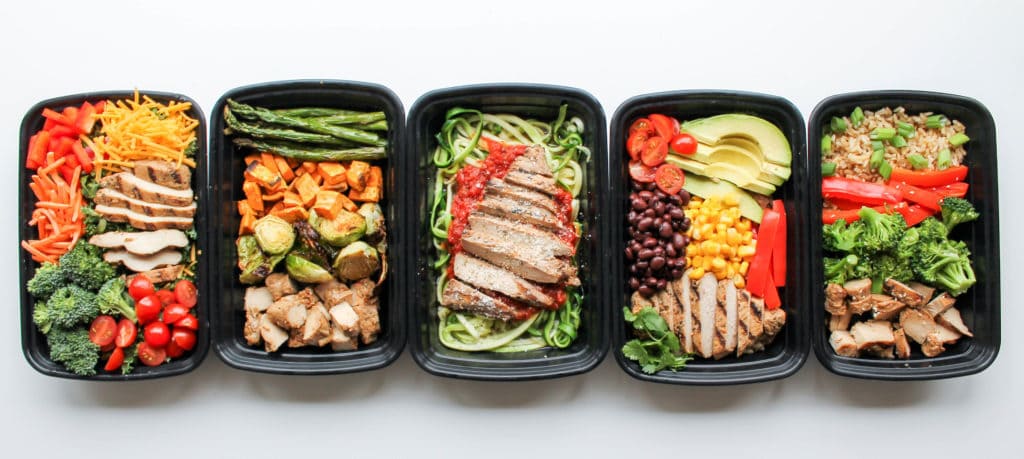 Here are a couple of tricks or ideas:
– chicken, rice, and broccoli- get some already cooked perdue chicken, measure it to be the size of your palm, add some minute brown rice (they come in 60 sec single serve cups) with some frozen brocolli poured on top.
– crockpot: a jar of salsa, package of taco seasoning, and a package of raw chicken breast. Leave in crockpot on high for 4 hours.
– egg muffin cups with egg whites and veggies-get a carton of eggwhites and veggies w/ reduced fat cheese, pour into greased muffin tins OR get silicone muffin tins for easy poppin', bake at 350 degrees for 15 minutes
– protein energy balls- this is SO simple. mix a serving a protein powder , 2 cups of oats, half a cup of peanut butter (or PB2 for a healthier option), add cinnamon for extra flavor, mix, roll into balls,and store into fridge
For more nutritious but delicious meals, see a Registered Dietitian Nutritionist in your area. Visit eatright.org to find out who! OR Let's make it easy for ya and just give our Dietitian Michele an email mwroblewski@carusoptrd.com or call at 609-738-3143
Jenna Lucas, High School Senior Bordentown Highschool
Michele Wroblewski, RDN
Caruso Physical Therapy and Nutrition, LLC
1278 Yardville Allentown Rd. Suite 3
Allentown, NJ 08501
mwroblewski@carusoptrd.com
609-738-3143
Sources: https://www.buzzfeed.com/hrblock/i-spent-two-weekends-meal-prepping-and-heres-how-much-i-save?utm_term=.grgErdr6M#.nroVOBOnr